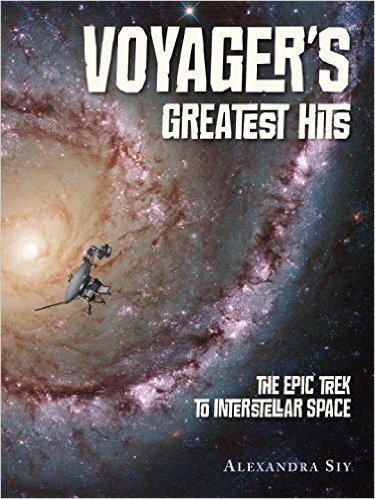 Animation of Solar Bubble in Interstellar Space
NSTA recommends
"Librarians should put this title at the top of their STEM wish lists particularly for upper elementary–aged children. This book is sure to become a classic."
School Library Journal Starred Review
Siy, Alexandra. Voyager's Greatest Hits: The Epic Trek to Interstellar Space. 80p. further reading. glossary. index. notes. photos. websites. Charlesbridge. Jun. 2017. Tr $18.99. ISBN 9781580897280. Gr 4-8–Forty years after the launch of the twin space probes, Siy's well-researched and enthusiastic title depicts their conception, construction, major discoveries, and lasting legacy. After two introductory chapters, the narrative settles into a pattern: each chapter opens with a historical breakthrough, such as Galileo discovering four of Jupiter's moons, and then relates some pertinent information gained from the Voyagers' data as well as photos from specific encounters. The material is presented in a chronological order that roughly follows Voyager One's and Voyager Two's journeys, taking readers from launch on Earth through reaching interstellar space. The final chapter, on the Golden Records, the Voyagers' message in a bottle from Earth to aliens who may come across it, ends the book on a hopeful note. The back matter, especially the links found in "Keeping Up with the Voyagers," will be invaluable for those wanting more. Siy's conversational tone makes for quick reading, and she deftly injects humor into what could have been challenging passages about eight-tracks and other 1970s era technology. Beautiful full-page photographs, most of which are from the Voyager mission, enhance the text. VERDICT An engaging and captivating STEM title that deserves a place in most libraries.
Kirkus Reviews
From the author of Cars on Mars: Roving the Red Plant (2011) comes this fascinating story of the twin Voyager probes, launched 40 years ago to travel to the outer planets of our solar system and now continuing into interstellar space...