UP CLOSE WITH SPIDERS
This is "Devon's Spider!" Read about about how it was identified in UP CLOSE WITH SPIDERS.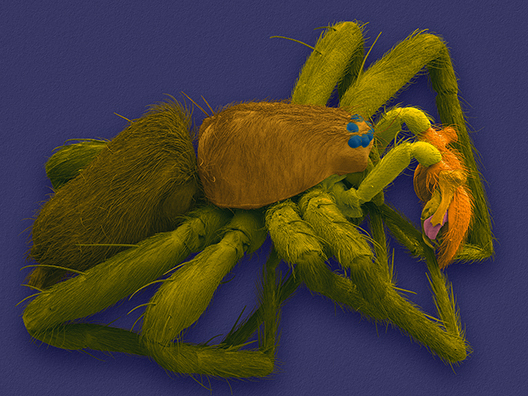 "Using all the information available--the SEM images, the photograph, the size of the spider and the location where it was found--Devon's Spider was identified as a male sac spider. A walking "pesticide," it eats crop-destroying insects and their eggs. When it isn't wandering around hunting down pests, it retreats to its silk sac under leaves, rocks, or bark." (from Spidermania page 41)
School Library Journal 12-1-2015
Gr 4-6–A brilliantly colorized microphotograph of a jumping spider crouches on the dust jacket like some alien nightmare, an electric lure to attract browsers to the many enlightening pages that follow. Many other Scanning Electron Microscope (SEM) photos, also colorized, are strewn about, offering vivid details of spinnerets, fangs, and eye patterns; regular color photos of spiders are included as well. The writing flows well, and Siy discusses a wide selection of arachnid topics—basic physiology, behaviors, and silk, for instance—before branching into specific varieties. Some of the species examined are the diving bell spider, the daddy longlegs spider (not to be confused with the equally long-legged harvestman), the wolf spider, and, of course, the black widow. Asides on topics such as courtship, parenting, and web-building are interspersed throughout, and the book ends with Siy delving into how she and Kunkel identified an unknown spider sample. She also explains how the dramatic SEM photos so liberally lavished throughout were taken and colorized. Back matter, which features information on eye-patterns, an identification key to eight common orders, and a segment on spider classification, is sure to delight educators. Similar in scope to Seymour Simon's handsome (nonindexed) Spiders (HarperCollins, 2004, 2007) and Nic Bishop's dramatic Spiders (Scholastic, 2007), this eye-catcher will appeal to students. VERDICT Arresting photos and illuminating text weave a neat web to capture readers.–Patricia Manning, formerly at Eastchester Public Library, NY
Featuring abundant boldly colored visuals and a wealth of information, Siy and Kunkel (Bug Shots, 2011) offer a lively introduction to spiders. The book first covers general characteristics and behaviors, from their physical makeup to how they create silk. Then they go on to discuss 10 spider types, such as black widows, tarantulas, and orb-weavers, as well as the diving bell spiders, which live underwater. Siy's clearly written text then addresses spiders' unique aspects, typical life cycles, and whether they're poisonous to humans. Siy conveys scientific concepts and terminology very well, and her text is nicely complemented by Kunkel's detailed, vivid photographs and digitally enhanced electron micrographs, all of which are accompanied by descriptive captions. Though some squeamish or bugphobic folks might balk at the large photos (and shudder to learn about common household hiding spaces for spiders), readers will come away with a fairly comprehensive understanding of spiders and spider diversity. The extensive back matter includes the typical elements as well as a guide for recognizing and identifying particular spiders by eye pattern.
~BOOKLIST